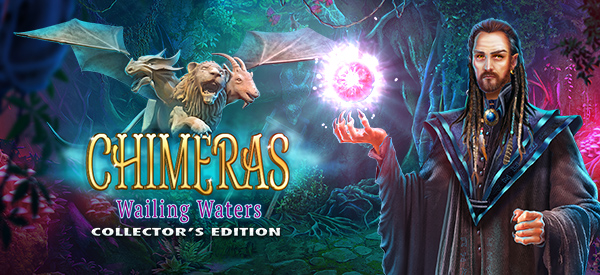 Hidden Object Puzzle GameNew Release Chimeras: Wailing Waters (Collector's Edition) – It's time to join your friends as a counselor for Heavenfall Academy's new summer camp! But your excitement is quickly overshadowed when you arrive to find strange creatures roaming the camp and your friends trapped on the Black Lake grounds! Can you save the campers from a malevolent force before it's too late? Try for free on Mac and PC today! WEEKEND PROMOTIONS! Chimeras Bonus Sale ! Bonus Sale! Buy Chimeras: Wailing Waters Collector's Edition for full price and get Half Off any additional bundles Collector's Edition game! Use code CHIMERAS at checkout. Offer valid June 13-14, 2019. Father's Day Sale!

Father's Day SALE! All games are 60% Off Retail! Collector's Editions use code FATHERS and standard versions use code DAY at checkout. Offer valid June 15-16, 2019. INTERNATIONAL WEEKEND PROMOTION!
THIS WEEKEND ONLY – 60% off all games! June 15 – 16 Standard Version use code SE60 – Collector's Editions use code CE60. Offer expires 6/16/2019.
French – CE WEEK-END SEULEMENT – Tous les jeux à -60% ! Code de coupon Versions Standard : SE60 – Code de coupon Editions Collector : CE60 . L'offre expire le 16/06/2019.
German – NUR DIESES WOCHENENDE – NUR DIESES WOCHENENDE – Alle Spiele 60% günstiger! Gutscheincode Standardversionen: SE60 – Gutscheincode Sammlereditionen: CE60. Das Angebot endet am: 16/06/2019.